2016 was a great year for me. Amazing clients, fantastic moments and some stunning weddings.

I had the pleasure to photograph weddings at some of Toronto and Ontario's best wedding venues including Malaparte, Fermenting Cellar, Langdon Hall, Liberty Grand, Sunnybrook Estates, SteamWhistle Brewery, Paletta Lakefront Mansion, Art Gallery of Ontario, Ancaster Mill and Graydon Hall
 
I had a really hard time picking these pictures, and I'm sure I forgot about a few, but I hope you like them and here's hoping 2017 is just as good!
 
I love this image from Christina + Tim's wedding at Malaparte in Toronto. All their guests surrounded them as they had their first dance by candlelight. After shooting over 300 weddings it's always great seeing something new!
This year I've really been trying to capture wedding details that have a human element to them. I don't know about you but I think a wedding dress looks so much better on then on a hanger. This is Danielle's beautiful dress from her wedding at the Fermenting Cellar.
I love simple window light. On any wedding day you'll find me dragging people towards that beautiful soft window light but in this case Jing was already standing there and I grabbed a quick candid portrait of her before their Chinese tea ceremony.
Not the Mediterranean... this is actually Lake Ontario. We grabbed this beautiful portrait during Laura + Chris' amazing wedding at Paletta Mansion in Mississauga.
It's better to be lucky than good! (it also helps being good).

Sometimes when you have an uncooperative ring bearer you turn lemons into lemonade. As we were trying to get a big extended family picture the groom's nephew decided he was going to do his own thing.
This one is from Alex + Bobby's small, intimate wedding at Langdon Hall in Cambridge, Ontario.

There were only about a dozen people at the wedding but even so it feels like these two are the only ones there.
I love this casual, relaxed portrait of the wedding party from Danielle + Felipe's wedding at the Fermenting Cellar in Toronto's Distillery District.
Love this portrait of Jenny + John from their autumn wedding at Graydon Hall.

Even when I'm shooting portraits I try and keep things very relaxed, letting the couples just interact with each other in some nice light and see what happens!

Always helps to have a classic Rolls Royce too!
Always looking for a different angle, I got this picture during the Tea Ceremony at Haidee + Martin's wedding at the Estates of SunnyBrook in Toronto.
Love the joy and laughter on Jing's face after their backyard wedding ceremony in Toronto.
This was one of the best moments of the year as Melanie and David were surprised by their theatre friends with an amazing flash mob at their wedding!
I love this small, intimate moment as Laura + Chris walk back to their wedding at Paletta Mansion after we did some wedding portraits down by the lake.
Christina + Tim dance the knight away late into their reception at Malaparte in downtown Toronto.
A beautiful sunset portrait from Alex + Bobby's intimate Langdon Hall wedding.

Whenever I can, I always try and sneak my couples out of the reception for a few minutes of portraits during the golden hour.
I'm always looking for a different angle, especially during wedding ceremonies.

Sometimes you have to get right down on the floor for that different angle. This one is from Jenny + John's Catholic wedding in Toronto.
Love the look from mom as she looks on during the Orthodox wedding ceremony of Christina + Tim this past September.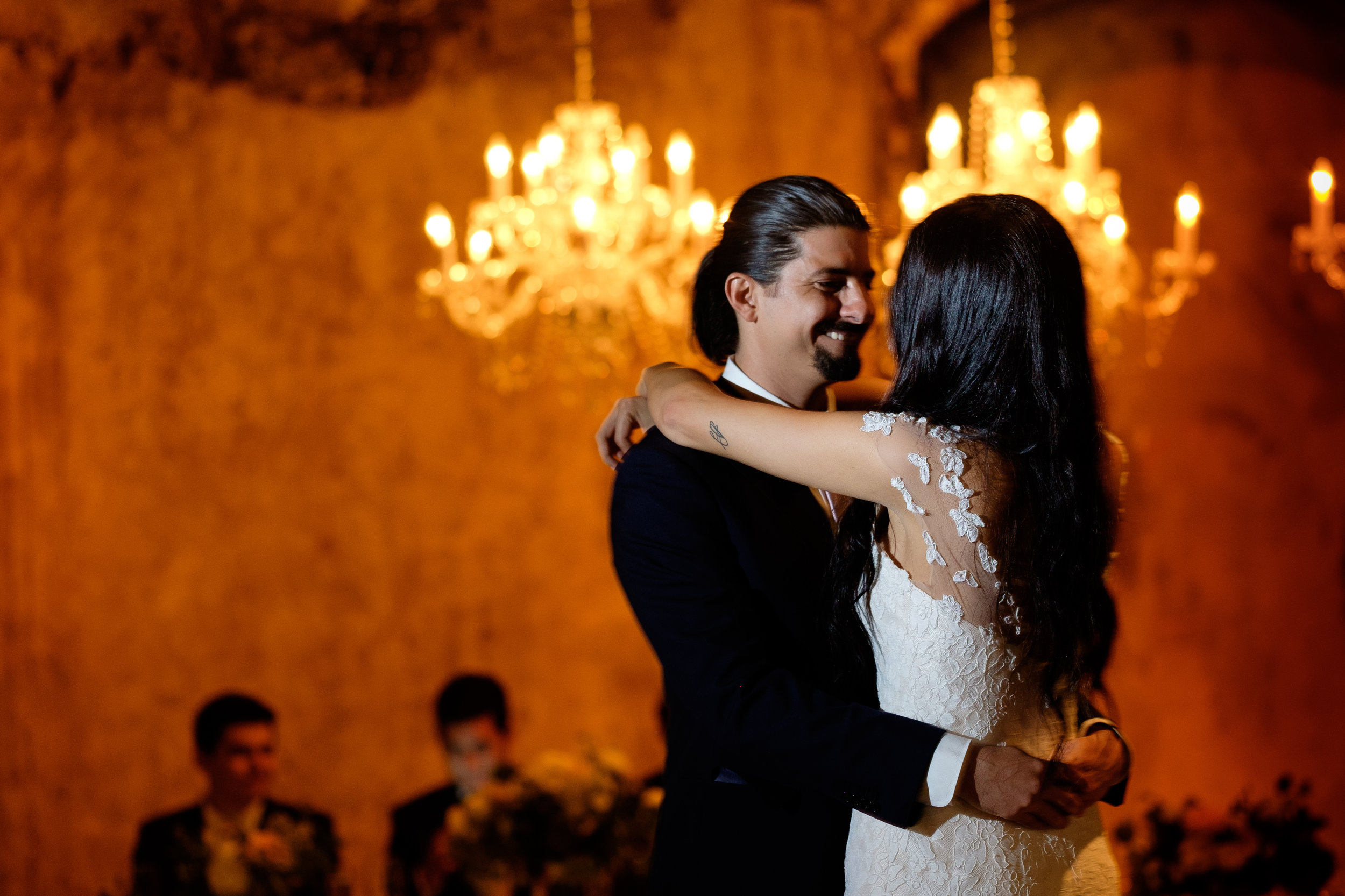 This is one of my favourite first dance images from this year, I love the contrast of the Danielle + Felipe with the warm tones in the background.

Plus, check out his expression.... that's one happy groom!
I love a good, classic wedding portrait with some nice window light.

This one is from Haidee + Martin's spring wedding at the Estates of Sunnybrook in Toronto.
This is from Sherry + Jonathan's wedding during their Chinese tea ceremony during their wedding in Toronto. I love the expressions and framing in this picture!
I'm a sucker for emotion in pictures so I live this one as Augusto's mom gives him one final hug before he marries Mashael during their outdoor wedding ceremony at Ancaster Mill.
Sometimes you have to go a little abstract... this one is from Jing + Rene's backyard wedding in Toronto as Jing has her makeup done.
I snuck Danielle + Felipe away from their wedding reception at the Fermenting Cellar for some quick, intimate portraits of them.

We didn't go far, this is just at the entrance way to the Fermenting Cellar. I love their expressions in this one.
This one is from Melanie + David's wedding in Toronto. Whenever I have weddings in ballrooms I always try to get back from my subject and try and show the entire scene.
In my mind, this kid is thinking 'Dude, don't do it... girls are gross!' but him and his brother were two of the best behaved ring bearers I've ever seen. The stood still and kept quiet even during a long Orthodox ceremony... better then my kids would have done! :)
It's not much of a secret that my favourite part of the wedding is the party at the end of the night... I'm one of the few wedding photographers in Toronto that cover the entire day from start to finish.

Haidee is having an amazing time with her friends on the dance floor during their wedding reception at Estates of SunnyBrook in Toronto.
I grabbed this shot as I was leaving Alex + Bobby's wedding from outside at Langdon Hall.
Indian wedding ceremonies are amazing to shoot! There's so much going and such vibrant colours.

This image is from Shilpa + Rishi's wedding at Liberty Grand this pst autumn.
MMMMM... Golden hour portraits.

Whenever I can I try to get my couples out at sunset for a quick portrait session. The light at that time is amazing and we can get so many great pictures in such a short time!

This one is from Savanah + Bernie's wedding at the SteamWhistle Brewery in Toronto.
I love photographing joy. And I think it's safe to say that Jenny + John are enjoying their big day at Graydon Hall.
This one is from Najwa + Trevin's wedding at the Art Gallery of Ontario.
I always try to get a casual, relaxed portrait of the wedding party along with a more formal one.